Von's Records' Top 20 for 2011 (Better late than never)
It's time again for the annual parade of our favorite albums of the year.
Not necessarily the best, mind you. But things we liked.
20. Noel Gallagher's High Flying Birds
WD: This was a good album. Noel was the talent in Oasis and this album just solidifies that position. Beady Eye was garbage, this is near classic. "If I Had a Gun" might be my favorite song this year. I expected a great album from Noel and he delivered. Spot on, sir. Spot on.
TF: Oasis - Angst = This? I'm digging this for the time being, but I'm not sure that it's one that will stay with me through the years.
19. The War on Drugs Slave Ambient
RR: I was more than a little nervous when I heard that Kurt Vile had left these guys, but this is just as good as "Wagonwheel Blues," if only a little bit less lonely. Slave Ambient is atmospheric and expansive, building up layers of sound into an almost Marfa-TX-like-sky--broad and infinite, filled with space and dust, and bleeding into the horizon.
WD:
This is a pretty good listen. There is a mood that permeates throughout that I found to be quite pleasing.
18. PJ Harvey Let England Shake
RR:
PJ never ever ceases to amaze me. Only Polly Jean could take a song-cycle this intense, sung purposefully out of her usual range to draw your attention to the horrors and giganticness of war, and not have it fall completely flat. You can feel her being consumed by this, screaming into an abyss that can only be conquered by something as equally as awful as it is itself.
WD:
I could have loved this album if not for some of the seemingly misplaced noise. There is a bugle call throughout the third or fourth track that just drives me insane. It seems dumb, but that just ruined this album for me.
17. Smith Westerns Dye It Blonde
TF: Saw these guys at random during Bonnaroo, and they just got stuck in my head. Groovy, T. Rex style tunes.
RR: Vintage pop. Not as lo-fi as their first album, but pretty damn fabulous all the same.
WD:
I agree with TF. There is a pretty heavy T Rex thing happening here, and I love it.
16. Wanda Jackson The Party Ain't Over
TF: Elvis's former au pair collaborated with Jack White on the comeback album to end all comeback albums. Rowdy, loud and rockabilly as hell. I hope I'm able to rock this much when I'm old.
RR: I love Wanda. She's still got electricity pouring off of her, and a certain sexiness you wouldn't normally think of with someone in her mid-70's. And I adore how mischievous-little-boy-grinning Jack White gets when he's around her.
WD:
I just loved this one. It's hooky. It's fun. It's a party on a 12" slab of vinyl. Wanda and Jack really delivered the goods on this album. Lots of horns, great vocals, and just enough of Jack's guitar to make me grin.
15. Kurt Vile Smoke Ring for my Halo
RR:
Kurt always sounds so alone, which has always struck me as a little bit strange because there's always this tiny flame of not-quite anger that isn't exactly passivity either burning in his music. I like it.
RR: Jeff Tweedy has lost his edge with age, but Wilco still makes good music with lyrics that don't often follow a logical course of action--and I think Nels Cline gives them some of that lost edge back (Hello, track number 1: "Art of Almost"). There will never be another Yankee Hotel Foxtrot, sure, but what can one do?
WD: Wilco has a way of making albums that kind of alienate me on the first couple of listens, but later on I sort-of "get it". This one I "got" right away. It was very accessible. True, it's no Yankee Hotel Foxtrot but it's great. Wilco has settled into making consistently good records, and, while they may not be Earth shattering, that's more than can be said for some of the bands out there right now.
13. Cults Self-Titled
RR:
This wears its 60's-Girl-Groups reverence on its sleeves, and I adore it.
12. Bright Eyes The People's Key
RR:
Oh, Conor Oberst, you're all grown up now. This album is one of the best he's ever made, I think. The little-boy-lost is now a man adrift, no longer list innocence consumed with love that doesn't exist, but instead a world that seems just this side of burning down, everyone alone. It's almost as if he's finally seeing past himself, and it's all the more poignant because of it.
11. tUnE-yArDs W H O K I L L
TF: This is noisy, strange, and awesome. This bizarre cacophony is laced together with infectious hooks and thick beats. Weird and addictive. Like eating imported exotic animal organs.
RR:
This is in my top 3 for the year. Merrill Garbus is insane, and I kinda want to make her breakfast. Loops upon tape-loops, and not all of it makes sense. Plus she looks like she just rolled out from under a Goodwill donation bin. I love it!
WD:
I only listened to this album one time. From what I remember, it was pretty good.
10. Adele 21
RR:
Music to weep to, and that isn't necessarily a bad thing. She is astonishingly talented! And she's gorgeous.
TF: A song from this album is currently playing on at least three radio stations in every single listening area on earth. Usually, this is a bad thing, but every time I come across Adele, I've gotta listen. It's rare that someone with actual talent becomes a pop success, and I'm glad that Adele is getting the attention she deserves.
WD:
It's so rare these days to hear a truly talented artist on pop radio. I'm really happy to see Adele on top of the charts. It fills me with hope that real music can still be popular. This was just a fantastic album. She deserves all the accolades she gets. Also, she is super-hot.
09. The Decemberists The King is Dead
WD:
This was my pick for record of the year. The Decemberists made an amazing album. They left the epicness and grandiose ideas from Hazards Of Love behind to make a beautiful folk-rock masterpiece. This album was just perfect. I couldn't stop listening to it.
RR:
This is a really good album, and a folk-rock masterpiece to be sure. But I miss the days of "July, July!" I just can't help it, damnit. They've left England and whaling ships and gone Oregonian (at last, I suppose. They ARE from Portland, after all) -all flannel and lumberjack beards and ugly shoes.


TF:

There was nothing wrong with this album, but nothing that stuck with me either. I prefer

The Crane Wife.



08. The Strokes Angles
TF: The Strokes went the way of The Yeah Yeah Yeah's with this album and pulled a more poppy, electronic record. (HIPSTER GLASSES, ENGAGE) Not as good as some of their older stuff, but catchy as hell.
RR: I still can't believe Julian recorded the vocal track for this album on the opposite side of the country from the rest of the band. As I've said before, this is no "Room on Fire," but I really like its pop-leanings.
WD:
The Strokes have made better albums, but this was a strong comeback for them.
07. Radiohead The King of Limbs
RR:
Creepy and full of doom n' gloom. It's fabulous, and haunts my dreams. But every time I play it, I'm astonished at how short this album really is.
WD: I love that Radiohead seems to be unable to disappoint. This album was as good as anything they have ever done (except maybe "Ok Computer"). I love that they aren't afraid to make albums the way that they want to. It's best to have no expectations when going into listening to a new Radiohead album. You'll be more free to follow them into the abyss.
06. Bon Iver Bon Iver
RR: This isn't as bad as I remembered it being. I loved For Emma, Forever Ago, and I hated Blood Bank, so I remember approaching this with trepidation, and then indifference. But this is actually really good--the utter sadsack-ness of FEFA is gone, but Justin Vernon isn't out of his doldrums quite yet.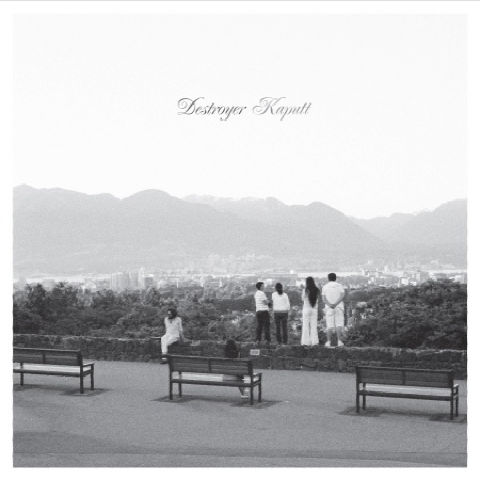 05. Destroyer Kaputt
RR:
I wasn't actually all that impressed with this, though several people have said they love it. I can see what he was trying to do with it, but I find myself indifferent and tuning-out. I've always hated Steely Dan. That said, ten other people voted this on to this list, and it made it into the top 5 on several Best-Of lists, so what do I know?
04. Florence + the Machine Ceremonials
RR:
Florence, I love you and everything about you. This is darker than Lungs, and all the more beautiful for it. She goes down the same paths Kate Bush treads, with no real salvation in sight.


TF:

This hasn't made the same waves that

Lungs

did, not yet at least, but this album has a lot of potential. Dreamy and dramatic.

WD:
I liked this enough to include it. I liked it better than "

Lungs"

. It has a very grand sound. I like the bigness of this one.

03. Washed Out Within and Without
RR: My album of the year, hands down. But I'm a little biased--I have this thing for fuzz. Their live show is just a little bit boring, but I can live with that if they keep making music like this.

WD: This was pretty forgetable. I liked it when it first came out, but it just didn't stick with me for very long. It's one of those "if the mood strikes" albums, and the mood doesn't strike me very often.

02. The Black Keys El Camino
TF: Loved it. As good as, if not better than Brothers. I'm glad that "unofficial third member" Danger Mouse is back in the fold for this one, and El Camino far surpasses DM's contributions on

Attack and Release. "Little Black Submarines" will lull you into a false sense of safety then kick you in the teeth. The Black Keys have worked hard to get to this level of recognition, and it couldn't have happened to a better pair of boys from Ohio.
RR:
This is really, really good, but it's no number one. It's almost too calculated, if that makes any sense. That said, I still like this a hell of a lot.
WD: The Black Keys are on one hell of a roll. They just keep getting better, and this album is the proof. It's a rocker with nary a dull moment. As a matter of fact, I don't think I've heard a more consistent album since Elephant by The White Stripes. It's just great .
01. Fleet Foxes Helplessness Blues
TF: I'm gonna be 100% honest right now: I didn't even listen to this album. Or, if I did, I didn't realize it and it left no impact on me. Fleet Foxes, I'm sorry, but you just haven't impressed me. Stop being so damn forgettable.
RR:
This album is gorgeous, like everything they've ever done. I think the only problem is, they've found the formula that works for them and they haven't deviated. I'm curious as to what else they'll do.
WD:
RR is right. This was a beautiful journey. The Fleet Foxes have actually improved on the Portland folk of their debut. I fell for this after the first listen. They don't deviate from what makes them a great band. This was a well crafted album. It's not perfect, but it's pretty damn close.